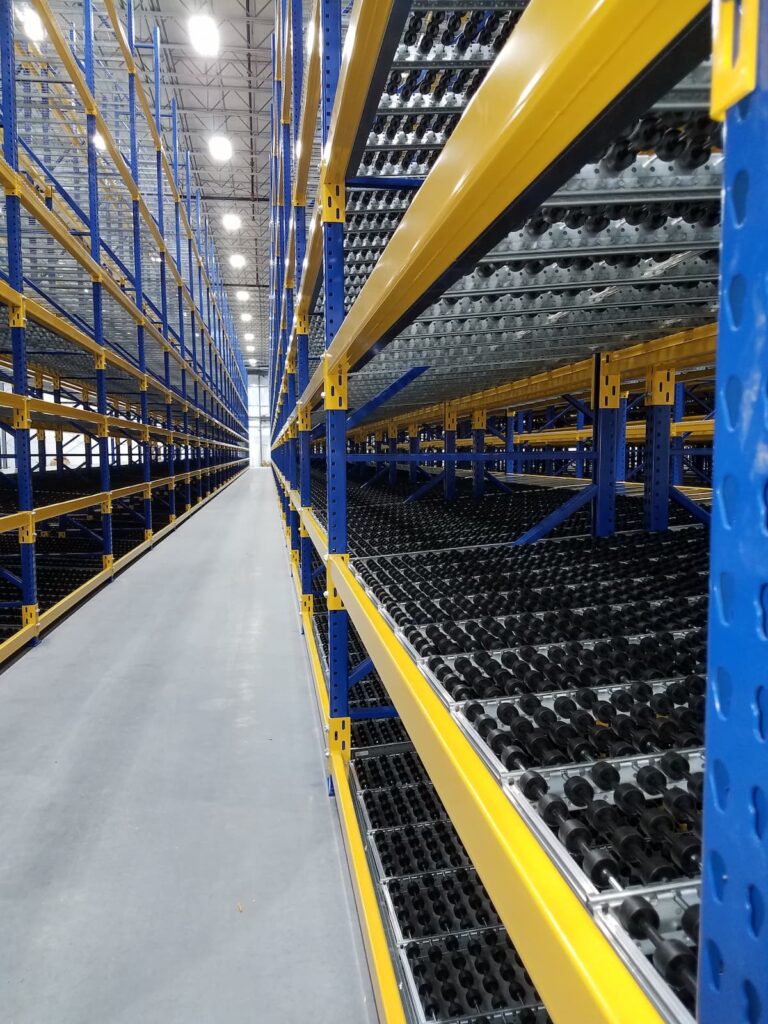 Are you getting the most out of your assets/warehouse with maximized return on investment? Rack systems help you maximize your available storage space while allowing you to retrieve product efficiently and safely. We have a number of options to choose from based on your business's warehouse design and inventory needs.
We design and install customized storage solutions:
Selective
Pushback
Drive-In
Flow
Cantilever
Pick Modules
Allow our years of experience and our long-term partnerships of industry-leading experts to assist you in creating a safe and optimal warehouse.
Selective racking is the most common warehouse storage solution. They provide access to each item or pallet, making it simple to find and unload the specific one you need. They're also one of the most affordable options. However, they're relatively low density, which means they require a lot of space.
With push-back racking, inventory is loaded onto carts that move down a track. After you load one pallet, you push it down the line and load the next one. This is a good option for First In Last Out (FILO) systems. It also provides high density storage, so it may be a good choice for you if you're working with limited space.
Drive-in and drive-through racking allow you to stack pallets vertically on rails, maximizing your storage space. With drive-in racking, pallets are loaded and unloaded at the same point, creating a First In Last Out (FILO) system. If you need First In First Out (FIFO) storage, you may consider drive-through racking, where pallets are loaded on one side and unloaded on the other.
Flow rack systems use inclined lanes with rollers to easily move inventory or pallets through your warehouse. Most systems use simple gravity to work, making them a cost-effective solution for keeping items organized as they move from storage to distribution. Flow racking can be designed in many ways depending on your needs. Our experts can customize a system for your operational needs.
Cantilever racking allows you to store items on vertically stacked beams. The beams have no vertical bars at the front end, which creates easy access for forklift operators to load and unload. It's often the best storage option for very large or awkwardly shaped inventory, such as furniture, pipes or lumber.
A pick module is a multi-level system for moving product through your warehouse or distribution center. Most pick modules combine a variety of rack systems, such as flow and push back, to maximize efficiency. Our engineers can design a custom system for your business based on your budget, available space and inventory needs.